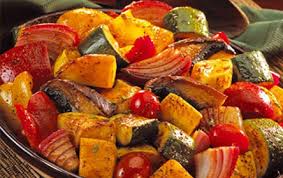 Ingredients:
Add your favorite vegetables I use the following:

2 New Potatoes
2 Sweet Potatoes
1 Sweet Onion
2 Carrots
1 Red or Green bell pepper
1 clove of chopped garlic

Tuscan Herb extra virgin olive oil
Sea salt
Pepper
Directions:
 Cut vegetables into pieces and place in shallow baking dish.Drizzle with extra virgin olive oil, add garlic, sea salt, and fresh pepper.Mix to coat vegetables. 
Roast for about 1 hour at 350 degrees, stirring occasionally. You can add any vegetables you like, just remember to roast the roots vegetables for about 30 minutes before adding the fast cooking vegetables.