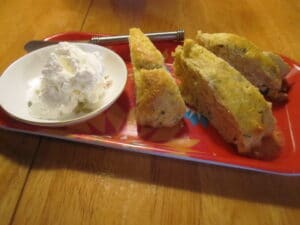 1 ½ c all-purpose flour
1 c cornmeal (yellow or white)
1 TBSP sugar
2 tsp baking powder
¼ tsp kosher salt
2 tsp dry parsley
1/3 c chipotle olive oil
½ c milk
1 large egg
1 egg mixed w/1 tsp water (optional)
Garlic powder (optional)
Extra virgin olive oil (evoo)
Instruction:
1.   Preheat oven to 375°F. With evoo, grease 9" diameter circle in center of baking sheet.
2.  Combine all dry ingredients in bowl and add chipotle olive oil, stir until mixture crumbles.
3.   In small bowl, whisk together milk and egg; gradually add to dry ingredients until blended.
4.   Form dough into an 8" round disc and place on greased circle of baking sheet. Brush with egg wash and dust with garlic powder. With serrated knife, cut into 8 or 16 wedges.
5.   Bake for 20 minutes or until golden on top and inserted toothpick comes out clean.
6.   Remove from baking sheet and let cool for 5 minutes on wire rack. Recut wedges and serve warm with side of clotted cream.
*To make clotted cream, simply whip heavy whipping cream until stiff.
*********************************************************************************************