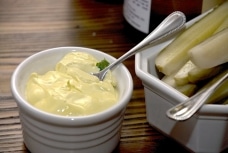 Swap the empty calories in mayonnaise with this delicious, healthy aioli made with extra virgin olive oil. You can use aioli anywhere you'd use mayonnaise – on burgers, sandwiches, dips, and dressings. And don't stop with Persian Lime! This recipe can be used with any of our fused & infused olive oils, like our Tuscan Herb, Lemon, & Garlic flavors.
2 fresh garlic cloves, minced
1 tsp. salt
1 large egg yolk
1 tbsp. lime juice
1/2 cup mild or medium intensity EVOO
1/2 cup Enchanted Olive Persian Lime Olive Oil
Pulse the garlic and salt in a food processor or blender for a few seconds. Add the egg yolk and lime juice. With the motor running, slowly add the mild extra virgin olive oil. Without turning the motor off, slowly add the Persian Lime Olive Oil in a thin stream. Taste and finish with more salt if necessary. Yields about 1 cup.