Readers & Olive Eaters

On October 1, 2014, The Enchanted Olive embarked on its first, two-fold literary & culinary adventure with 14 other spirited readers from the area. As the Olive Eaters Readers Club, we laughed, talked, munched, and imbibed together while we discussed a slurry of food-themed books each month. We invited local writers to expound upon their unique stories, sampled a buffet of foods crafted in the region, and even dabbled in a bit of cheese-making…all with a mutual love of food, fun, and words.
Now that our first season has come to a close for the summer, we wanted to share the array of fiction, memoirs, travel logs, and worldly stories that sated our reading appetites these past nine months. While our store is too small to expand the group any larger, our hearts are big, which is why we want each of you to experience these interesting reads. As with any book, some of the words reached us more intimately than others. We hope that you also find inspiration from this list of books…Happy Reading from The Olive Eaters Readers Club!!!
 ~~~~~~~~~~~~~~~~~~~~~~~~~~~~
The Olive Eaters Readers Book List 2014-2015
Cinnamon and Gunpowder

by Eli Brown
The Olive Farm: A Memoir of Life, Love and Olive Oil  in the South of France

by Carol Drinkwater
La Cucina: A Novel of Rapture

by Lily Prior
 

Honey, Olives, Octopus: Adventures at The Greek Table

by Christopher Bakken
Blessed Are The Cheesemakers

by Sarah-Kate Lynch
 

The Seed Underground: A Growing Revolution to Save Food

 by Janisse Ray
Unusual Uses for Olive Oil

 by Alexander McCall Smith
American Terroir

 by Rowan Jacobson
Pastries: A Novel of Desserts and Discoveries

by Bharti Kirchner 
~~~~~~~~~~~~~~~~~~~~~~~~~~~~~~~~~~~~~~~~~~~~~~~~~~~~~~~~~~~~
With so many of you regularly using our oils and balsamics in your creative recipes, we wanted to provide you with a quick reference to our assorted bottle sizes and capacities. 
Since the majority of the recipes printed in the United States use the volume measurement in cups and tablespoons (TBSP), we have provided that specific conversion below. 
Furthermore, since a number of you travel on planes with our bottles, we wanted to provide you with the fluid ounces for unfettered travels.
We hope this little chart aids you in your various culinary adventures!
60 ml (sample) bottles = 2.03 fluid ounces = 1/4 cup

+

3/4 tsp
200 ml (medium) bottles = 6.08 fluid ounces = 3/4 cup + 1 1/2 TBSP
375 ml (regular/large) bottles = 12.7 fluid ounces = 1 1/2 cup + 1 1/2 TBSP
750 ml (extra large) bottles = 25.4 fluid ounces = 3 cup + 3 TBSP
*************************************************************************************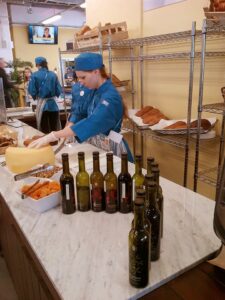 Veronica Foods olive oil and balsamic was hand selected to be served at the Sochi 2014 Winter Olympics. Currently our products are being served in all venues and starting today will also be on the buffets in USA House and NBC's VIP Hospitality Pavilion. The product is a HUGE hit & guests are already asking how they can buy when they return to the states… Stop in to see what all the excitement is about! Stay tuned for more photos and a press release.
*************************************************************************************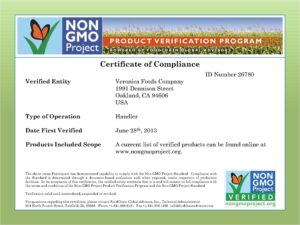 *************************************************************************************