60 Minutes Reports: Mafia Muddies the Agro "waters" of Italy
While last night's CBS News '60 Minutes'  broadcast, AgroMafia, may have alarmed millions of viewers, those of you who have shopped at The Enchanted Olive have known this reality has existed for several years in Italy and around the world. As we have repeatedly touted, agrobusiness and more specifically, the extra virgin olive oil business, is awash with fraud. However, when European food investigator, Sergio Tirro, reported to Bill Whitaker of 60 Minutes that selling olive oil blended with nut oil was tantamount to putting a bomb in the hands of consumers, we knew that 60 Minutes was revealing more and more layers of this complicated matter.
Bill Whitaker and 60 Minutes team further supported their broadcast by including interviews with: Italian olive farmer, Nicola Clemenza, who is trying to turn the tides of Mafia control of the industry; Ermes Riccobonno from Addiopizzo who is working to eradicate the Maffia tax imposed on food vendors; and author/activist, Tom Mueller, who advocates for quality olive oil fraud in his comprehensive tome,

Extra Virginity: The Sublime and Scandalous World of Olive Oil

. By carefully uncovering the choking control the Italian Mafia has had over its country's olive oil, cheese, and wine industries, 60 Minutes ultimately exposed how these knotty and perplexing truths have affected the quality of food circulating throughout the world.
We at The Enchanted Olive hope will take a moment to view the 60 Minutes broadcast and report back to us what struck you most deeply about the newscast.
With so many of you regularly using our oils and balsamics in your creative recipes, we wanted to provide you with a quick reference to our assorted bottle sizes and capacities. 
Since the majority of the recipes printed in the United States use the volume measurement in cups and tablespoons (TBSP), we have provided that specific conversion below. 
Furthermore, since a number of you travel on planes with our bottles, we wanted to provide you with the fluid ounces for unfettered travels.
We hope this little chart aids you in your various culinary adventures!
60 ml (sample) bottles = 2.03 fluid ounces = 1/4 cup

+

3/4 tsp
200 ml (medium) bottles = 6.08 fluid ounces = 3/4 cup + 1 1/2 TBSP
375 ml (regular/large) bottles = 12.7 fluid ounces = 1 1/2 cup + 1 1/2 TBSP
750 ml (extra large) bottles = 25.4 fluid ounces = 3 cup + 3 TBSP
*************************************************************************************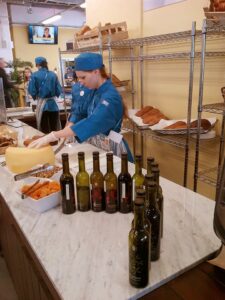 Veronica Foods olive oil and balsamic was hand selected to be served at the Sochi 2014 Winter Olympics. Currently our products are being served in all venues and starting today will also be on the buffets in USA House and NBC's VIP Hospitality Pavilion. The product is a HUGE hit & guests are already asking how they can buy when they return to the states… Stop in to see what all the excitement is about! Stay tuned for more photos and a press release.
*************************************************************************************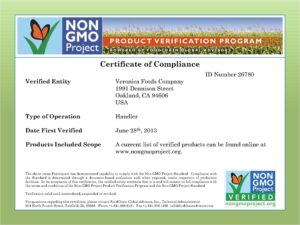 *************************************************************************************