With so many of you regularly using our oils and balsamics in your creative recipes, we wanted to provide you with a quick reference to our assorted bottle sizes and capacities. 
Since the majority of the recipes printed in the United States use the volume measurement in cups and tablespoons (TBSP), we have provided that specific conversion below. 
Furthermore, since a number of you travel on planes with our bottles, we wanted to provide you with the fluid ounces for unfettered travels.
We hope this little chart aids you in your various culinary adventures!
60 ml (sample) bottles = 2.03 fluid ounces = 1/4 cup

+

3/4 tsp
200 ml (medium) bottles = 6.08 fluid ounces = 3/4 cup + 1 1/2 TBSP
375 ml (regular/large) bottles = 12.7 fluid ounces = 1 1/2 cup + 1 1/2 TBSP
750 ml (extra large) bottles = 25.4 fluid ounces = 3 cup + 3 TBSP
*************************************************************************************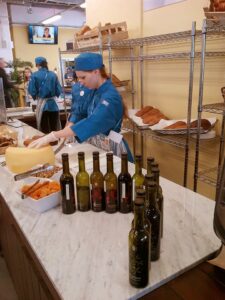 Veronica Foods olive oil and balsamic was hand selected to be served at the Sochi 2014 Winter Olympics. Currently our products are being served in all venues and starting today will also be on the buffets in USA House and NBC's VIP Hospitality Pavilion. The product is a HUGE hit & guests are already asking how they can buy when they return to the states… Stop in to see what all the excitement is about! Stay tuned for more photos and a press release.
*************************************************************************************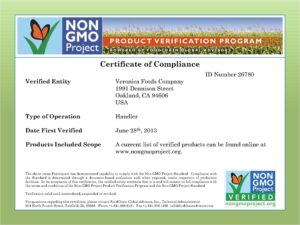 *************************************************************************************