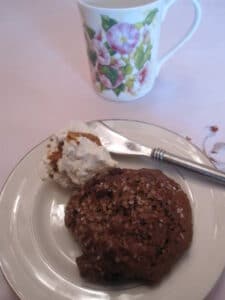 1 ½ c all-purpose flour
½ c sugar
2 TBSP unsweetened cocoa powder
1 tsp cream of tartar
3/4 tsp baking soda
½ tsp kosher salt
1/3 c butter olive oil
1/3 c buttermilk
1 large egg
1 TBSP espresso balsamic vinegar
¼ c dried cherries or other fruit
¼ c mini chocolate chips
1 egg mixed w/1 tsp water (optional)
Course sugar (optional)
Cocoa powder (optional)
Instruction:
1.   Preheat oven to 375°F. With evoo, grease surface of a baking sheet.
2.   Combine all dry ingredients in bowl and add butter olive oil, stir until mixture crumbles.
3.   In small bowl, whisk together buttermilk, egg, and espresso balsamic; gradually add to dry       ingredients until blended.
4.   Stir in dried fruit and chocolate chips. Form dough into 8-12 small round discs and place 4" apart on baking sheet. Brush with egg wash and coat with course sugar and cocoa powder.
5.   Bake for 25-30 minutes or until inserted toothpick comes out clean.
6.   Remove from oven and cool on wire rack. Serve with raspberry flavored clotted cream.
*To make raspberry clotted cream, whip heavy whipping cream and 1-2 tsp raspberry balsamic vinegar until stiff or whip cream until stiff and blend in raspberry balsamic by hand.