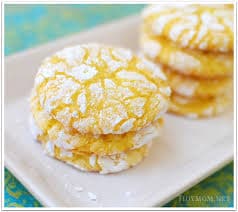 Ingredients:
2/3 cup lemon olive oil
1 cup granulated sugar
1 large egg
2 ½ teaspoons vanilla extract
2 tablespoons lemon zest (one large lemon
2 tablespoons fresh lemon juice
2 ¼ flour
1 teaspoon baking powder
½ teaspoon baking soda
½ teaspoon salt
½ cup additional sugar for rolling
½ cup powdered sugar
Directions:
Preheat oven to 375 degrees F.
Lightly coat cookie sheets with cooking spray.
In mixer bowl add lemon olive oil, sugar, egg, vanilla, lemon zest and lemon juice. Blend until smooth.
Add flour, baking powder, baking soda and salt. Mix until well blended.
Drop by teaspoonfuls into sugar and roll until well coated. Place on prepared cookie sheets.
Bake 8 minutes, cool on wire racks, dust with powdered sugar.