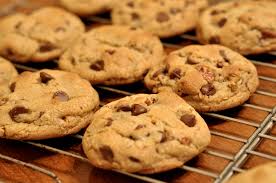 Ingredients:
2/3 cup and one teaspoon butter flavored olive oil
3/4 cup granulated sugar
3/4 cup brown sugar, packed
2 large eggs
2 teaspoons vanilla extract
1 tablespoon milk
2 ½ cups flour
1 teaspoon baking soda
1 teaspoon salt
1 cup semi sweet chocolate chips
1 cup chopped pecans (optional)
Directions:
Preheat oven to 375 degrees F.
Lightly coat large cookie sheets with cooking spray.
In a mixer bowl add olive oil, sugar, and brown sugar. Blend until smooth and creamy.
Beat in eggs, vanilla and milk.
Add flour, baking soda and salt. Blend well.
Fold in chocolate chips and pecans. Drop by tablespoons onto prepared cookie sheet. Bake 9-11 minutes. Cool on wire racks.