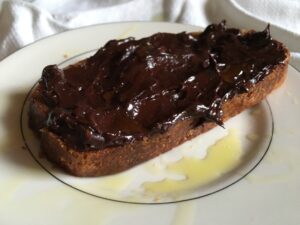 1/4 Cup granulated sugar
3 Egg yolks
Cup whole milk
9 Ounces dark chocolate
French Bread*
plain  or fruit-fused extra virgin olive oil
flake salt (optional)
Instruction:
In a medium heat-safe bowl, whisk together sugar and egg yolks until blended. Set aside
Bring whole milk to a boil in a small sauce pan, stirring continuously to prevent scorching.
Once milk has begun to boil, remove from heat and slowly add 1/2 cup to the egg yoke mixture. Whisk quickly and then add the remaining milk. Blend into a custard.
Immediately add the chocolate to the custard and whisk until fully melted. This makes a chocolate ganache.
Spread the chocolate ganache over a piece of brioche toast and drizzle with a generous helping of either a plain extra virgin olive oil or a fruit fused olive oil. Sprinkle with flake salt and enjoy!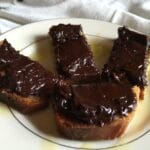 *This classic Catalonian breakfast usually involves spreading the chocolate ganache over enriched french brioche bread; however, if you're not able to find brioche, you can use a french baguette or french loaf from breadworks.
This breakfast is so fun to cut into little pieces. It is relatively low in sugar compared to Nutella and other similar spreads. Plus, this homemade ganache has no preservatives. What a delicious way to incorporate olive oil into your diet.
*Original recipe by Jose Chesa, chef at Ataula restaurant in Portland, Oregon