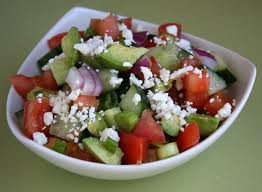 1 avocado, diced
1/2 cucumber, peeled and diced
6 or 7 grape tomatoes
1/2 small onion, diced
1/4 cup feta cheese, crumbled
salt and pepper to taste
Persian Lime Olive oil
Sicilian Lemon White Balsamic vinegar
Mix veggies and add salt and pepper. Swirl in the olive oil and vinegar. Delicious!
Serves 2
Recipe by: Grace Barker Bickert